Custom Flushing Services
In some situations, a flushing service is necessary to remove extreme particulate contamination in a lube oil system. This is most common during new construction or catastrophic failure (bearing failure, pump failure, etc.). New construction debris and catastrophic failures send contamination throughout the entire lube oil system which, if not properly removed through HVF can cause recurring issues with critical equipment for years to come. Our flushing programs are built around ASTM D 6439 and designed to effectively clean systems and protect critical components.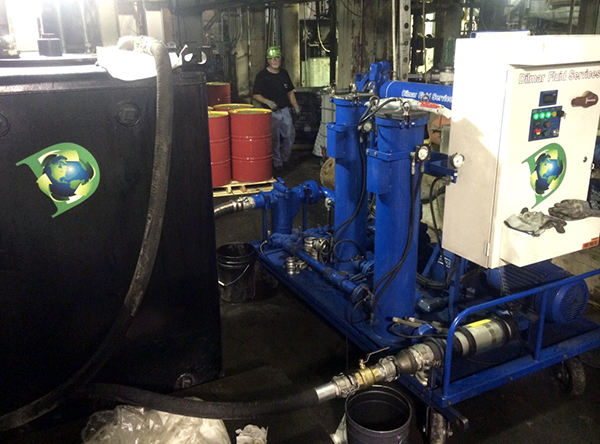 New Equipment Build
The most important time to perform a flush is after a new unit is built and before it is placed into service. A flush will remove all contaminants from the piping, tubing and hoses that entered the system during construction. This service will keep that contamination out of the bearings and other critical equipment.
Planned Outage/Maintenance
Contamination builds up in a lube oil system over time much like plaque in arteries. The most proactive customer will schedule a flush regularly or during a major outage to ensure that their piping is as clean as possible.
Equipment Failure
During an equipment failure the components will typically shed debris into the lube oil system over a long period of time until the user can take corrective action. This leads to thoroughly hard particulate contamination dispersed throughout the lube oil system piping and reservoir. A flush is critical then to reinstate cleanliness and ensure that this contamination does not find a way into critical components.
Lubricant Change Out
When a customer determines that a lubricant change out is necessary, this decision is made based on some aspect of the lubricant properties that have become insufficient. The lube oil piping cleanliness is often overlooked during the decision-making process and new oil is placed into a contaminated system.
Flushing Types
Circulation Filtration
Take place when the system is in production and running the system pumps in their normal flow pattern.
Appropriate when performing annual maintenance that is limited in scope and time.
Rinse/Purge
Utilized when filling the system with a neutral fluid or new charge of oil. The steps include draining the system, refilling the reservoir to the minimum circulation level, and using system pumps circulating in the normal flow path.
Employed when making a wholesale lubricant change during a conversion or displacing detergents or cleaners used during varnish mitigation.
System Flush
Uses system pumps to flush system and requires the installation of bypasses around critical components. Inspection screens or media are used to verify cleanliness along with particle counts.
Employed for light maintenance work – i.e., changing of a temperature-control valve or for non-critical systems such as redundant boiler feed pumps.
High-Velocity Oil Flush
High velocity occurs once you achieve turbulent flow. Turbulent flow occurs at high Reynolds numbers and is dominated by inertial forces, which tend to produce chaotic eddies, vortices, and other flow instabilities.
Includes bypassing system pumps and utilizing an external unit.
Turnkey Flushing Service
Review of piping system to determine flush rate to achieve an acceptable Reynolds number.
Removal of the oil form the reservoir and installation of the flushing equipment tie-ins.
Making entry to perform cleaning of the oil reservoir, using a Tornado Vac to remove sludge and large debris before using lint free rags to wipe down the interior, ensuring as much contaminant as possible is removed from the system.
Taking before and after photos of the reservoir conditions for reporting to the customer.
Collecting debris from the bottom of the reservoir to help with root cause analysis of system failure if applicable.
Installation of jumper hoses and test screens where applicable to bypass critical components. Some customers have 'jumper kits' already created. If the customer does not have this, our team can engineer a solution for the project and will include this kit for future use at the site.
Filtering the new or reclaimed oil back into the system following completion of tank cleaning..
Flush system and check the test screens every 12-48 hours depending upon system cleanliness. Continue flush until screens meet an acceptable cleanliness level.
Removal of oil from system and a post flush confined space entry tank cleaning is performed.
Reinstate lube oil system and removal of all jumper hoses and flushing equipment tie-ins.
Refill reservoir with oil and filter to the target ISO cleanliness code.
Provide detailed report following the service, including analysis from an independent lab of the reclaimed oil to ensure cleanliness requirements are met.
All DFS personnel are OSHA Confined Space certified and will work with customer personnel to ensure that proper confined space procedures are followed.