System Service
Contaminants accumulate on the bottom of reservoirs, even in systems that have efficient filtration, and eventually require cleaning. Reservoir cleaning is often overlooked in the filtration process and can lead to machine failures due to the reintroduction of contaminants. These services are commonly scheduled during outage down times, but it can also be necessary to evacuate a reservoir and perform cleaning following an unexpected maintenance issue such as a pump failure or large-scale introduction of contamination. DFS has the capability to perform turnkey service of these systems. This process can include the following, depending on the customer's needs:
Turnkey System Services
Pumping the oil out of the reservoir
○ Performing onsite reclamation on the oil to get it back into the desired ISO cleanliness and water content spec.
○ Storing the oil onsite for customer disposal or arranging for disposal offsite.
Making entry to perform cleaning of the system, using a Tornado Vac to remove sludge and large debris before using lint free rags to wipe down the interior, ensuring as much contaminant as possible is removed from the system.
Taking before and after photos of the reservoir conditions for reporting to the customer.
Collecting debris from the bottom of the reservoir to help with root cause analysis of system failure if applicable.
Providing the customer time with the reservoir empty to perform any repairs needed to the system if necessary.
Filtering the new or reclaimed oil back into the system following completion of tank cleaning.
Provide detailed report following the service, including analysis from an independent lab of the reclaimed oil to ensure cleanliness requirements are met.
All DFS personnel are OSHA Confined Space certified and will work with customer personnel to ensure that proper confined space procedures are followed.
Before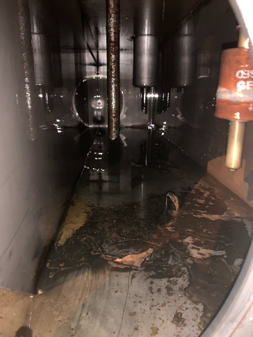 After